'm what the French call a
ferrovipathe
; I like rail transportation. I have a fun obsession with the Paris métro, especially métro paraphenalia. I've still got my
Carte Orange
from my student days (over twenty years ago!). Hey, they could be museum pieces! Hey, they
are
museum pieces! I saw some displayed recently when I went to see the final days of the
Métro...Ticket pour une expo
exhibit at the Musée des Arts et Métiers.
I haven't always loved the métro. In fact, in the early 90s another expat and I had the idea to write a collection of essays (we were going to call it "Métropolitains", aren't we clever?) where she would write why she loved the métro (which she did) and I would write why I hated it (which I did).
It wasn't so much that I disliked public transportation, it was more that I was phobic about being underground. Years went by where I never slipped a ticket through the turnstile. On the other hand, I knew the Paris bus system backwards and forwards, and I learned the mad art of driving in Paris.
My phobia lifted eventually (don't know why--it certainly wasn't anything
I
did to make it go away) and I started using the métro again. And loving it. Oh, it is still filled with drunks, hookers, pickpockets and beggars, but is also whisks me to work in 25 minutes (driving takes about 45) and I get a lot of reading done if I get a seat.
I love learning about métro trivia: the ghost, or abandonned stations (Porte Molitor, Haxo and Croix-rouge to name but three); how shallow some stations are (only 80 centimeters from the street surface!!!), how you are never over 500 meters from a station when in the city and how the métro was designed so you never have more than one change to make to reach your destination.
I'm very interested in the history of the métro signage and how the graphics, colors and fonts have evolved over the years. You still have stations with some of the vintage signage (Vaneau is one and it is beautiful) and there are a handful of stations which have preserved Guimard's squiggly art nouveau entrances.
I'm old enough to have lived through three color-changes of the métro ticket, from yellow to purple to green. I also lived through the change from the Carte Orange (the monthly pass) with its coupon to the present-day Carte Navigo which dematerialized the coupon and works with a smart chip. I just wave my purse over the turnstile and it opens! (Men use their butts.) I've also watched the métro map change as the system extended existing lines and added new ones.
Here's the museum with the poster for the exhibit. This museum focuses on industrial arts as its permanent collection.
The line 8 is my métro line. I was glad to see it featured and learned that it moves 440,000 passengers each day, me included!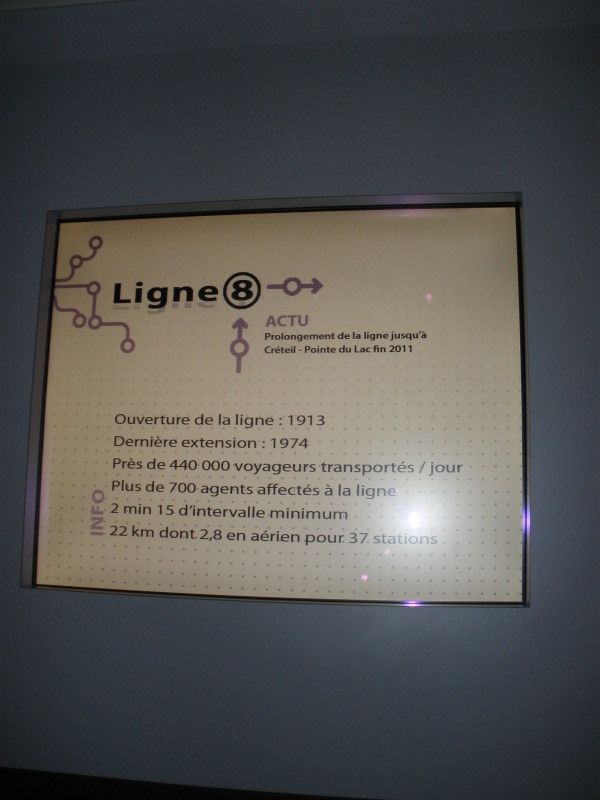 Here's the line 8 all lit up....it curves from the left bank to the right and back again out into an eastern suburb.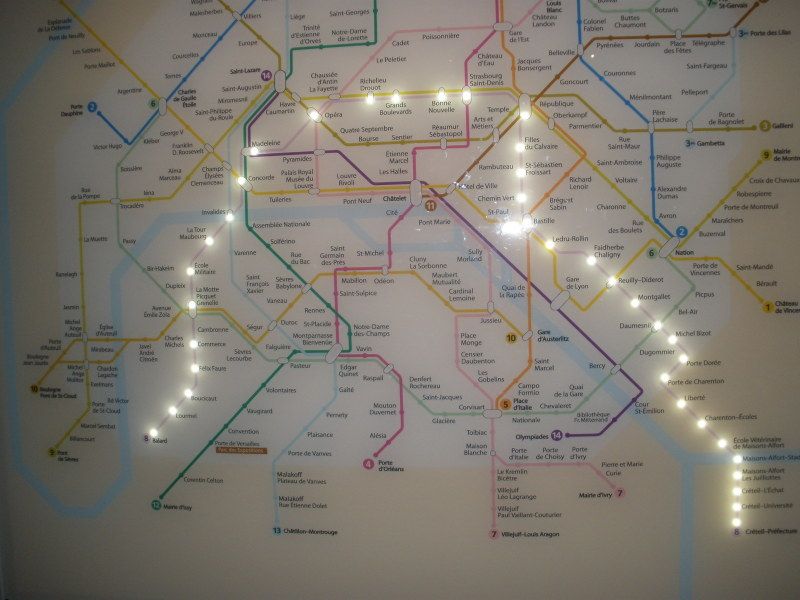 This was a super cool artifact. In the initial days of the métro, there was a guy in each car who punched your ticket. Each line had its own punch-shape; you can see here that line 9 was a heart. Serge Gainsbourg wrote a song in 1958 about these ticket-puncher guys called "Le Poinçonneur des Lilas".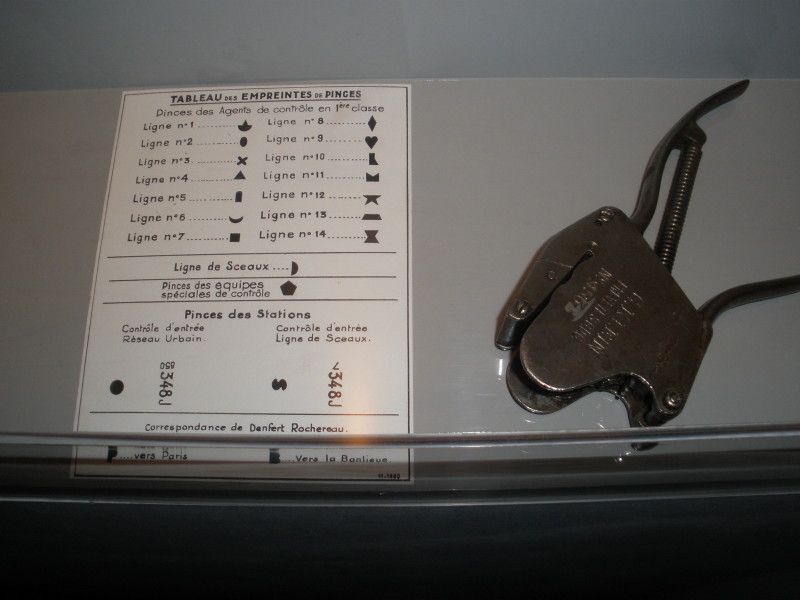 Some vintage tickets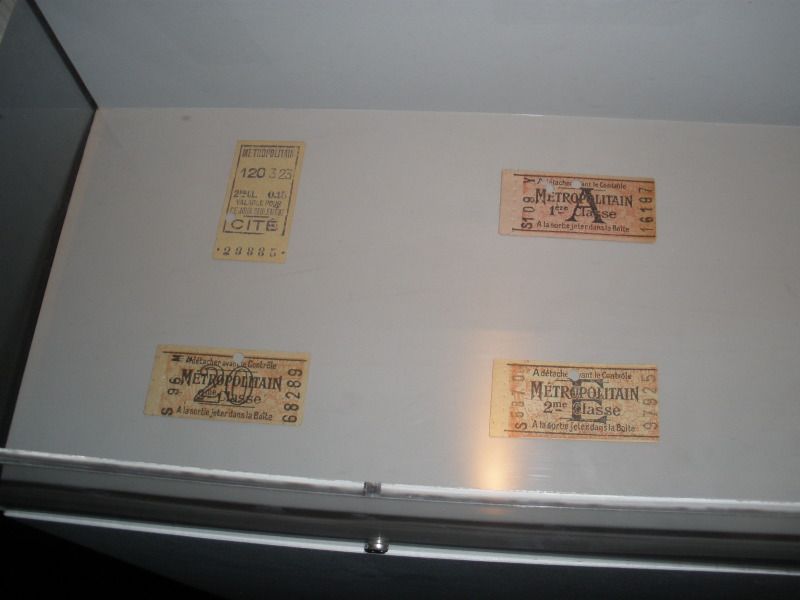 Man I love these old signs. It's a shame they didn't have a whole wing of these; I'm sure there are a ton of them in an old warehouse.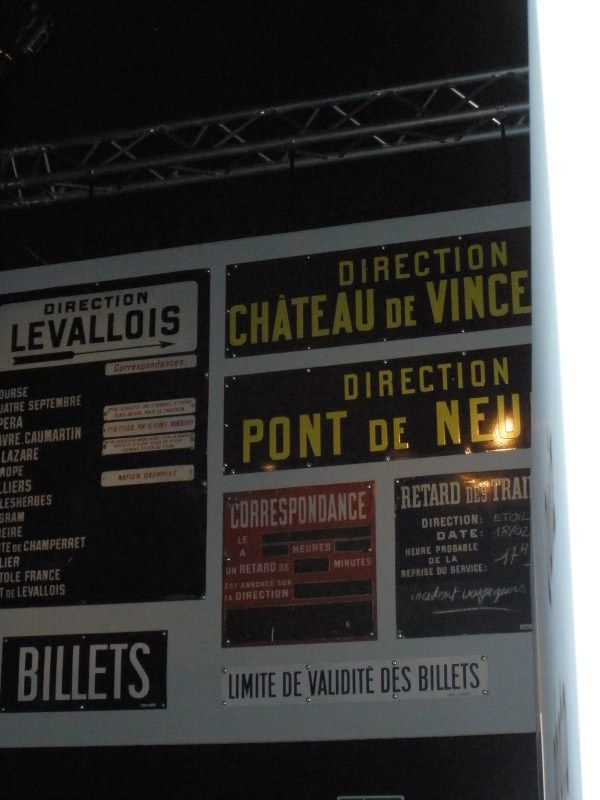 When I was finished, I took the métro back home and thought it was like I was still in the museum. Sadly, I wasn't on the renovated platform of this station (I was taking another line) because they've done up the station to resemble the museum with these huge gears and cogs and all sorts of industrial icons all over it.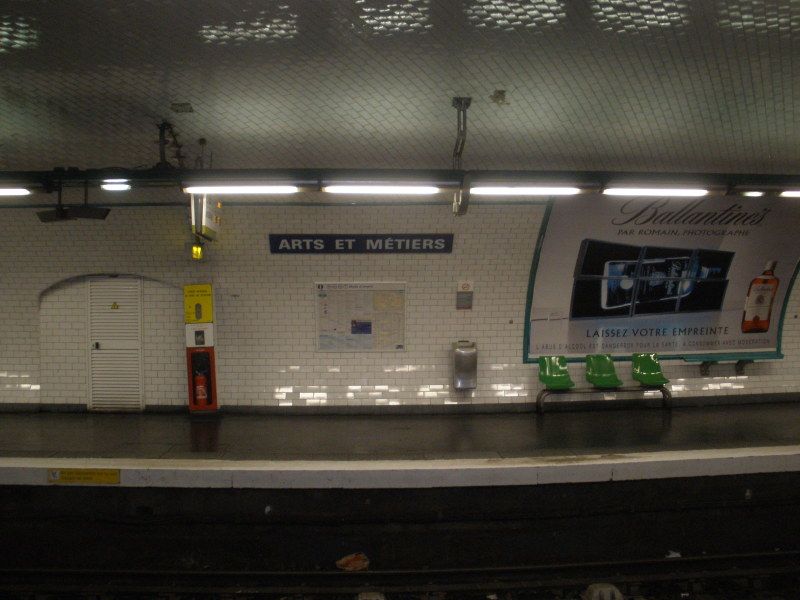 If you are a French reader, and as interested in the Paris métro as I am, I recommend the following books:
Petite Histoire du ticket du métro parisien, by Grégoire Thonnat. It's really terrific; the cover looks like the yellow and brown métro ticket and it focuses on all the iterations the tickets have gone through over time.
Métronome Illustré
by Laurent Deutsch. Graphically striking and fun to read.
There's a new coffee table book out called
Archives Inédites du RATP
(the RATP is the organization which manages the métro and bus system). It's quite pretty and has a good collection of archival photographs. You can see what the first métro line looked like (line number one, natch) with its wooden cars and wooden seats (in second class, leather in first). And no grafitti. Yet.
Zazie dans le métro
by Raymond Queneau. A novel about a quirky little girl who just wants to go in the métro. It has been translated into english as
Zazie in the Métro.